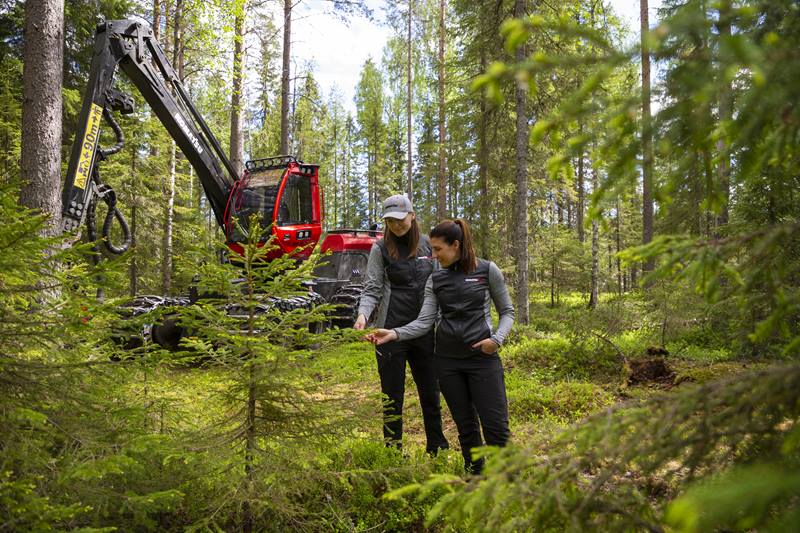 A sustainable future
Creating value together
We all share the responsibility for ensuring a sustainable future. As a machine manufacturer, we have a multifaceted approach to sustainability. This includes how we work within our business and how our machines can have minimal impact on their surroundings to ensure sustainability. It even includes how we can do our part to help to make the world a better place to live.
Our responsibility
One of our fundamental principles is to give back and reinvest, and not only within the local communities where we live and work, but also within society as a whole. We achieve this by:

Improving quality of life – contributing to the sustainability and safety of our customers' operations by means of innovative products, services and solutions that enable high productivity with the least possible environmental impact.

Developing people – our initiatives to develop our employees, distributors and suppliers as well as to leverage our knowledge to support talented individuals in the local community (partnerships with schools, sponsoring STEM education, etc.)

Growing with society – activities that support society. In addition to the responsibilities that we must fulfil without question, such as governance and compliance, these activities include social volunteering, health and humanitarian efforts and environmental protection.


One World One Komatsu: Throughout our centenary celebrations in 2021, we will be maintaining a special focus on sustainability, with all employees invited to participate in sustainable activities.
Our environmental work
In our commitment to minimise the environmental impact of our operations, we are focusing on:
Reducing CO₂ emissions from our production and products
Increasing our use of renewable energy
Responsible water consumption
Reducing our waste
A few sustainable examples
We only buy green electricity and return the corresponding amount of energy to the system in the shape of materials recovered from production. We recycle as much as we possibly can
We minimise energy consumption in production by using motion-activated lighting, heat exchangers and more.
93% of everything we ship is environmentally certified
We are ISO 14001 certified by the certification body DNV GL
All chemicals are managed as legislated
We conduct risk analyses for all possible uses of a substance, not only for the way in which we use it


Read our environmental policy here
Our production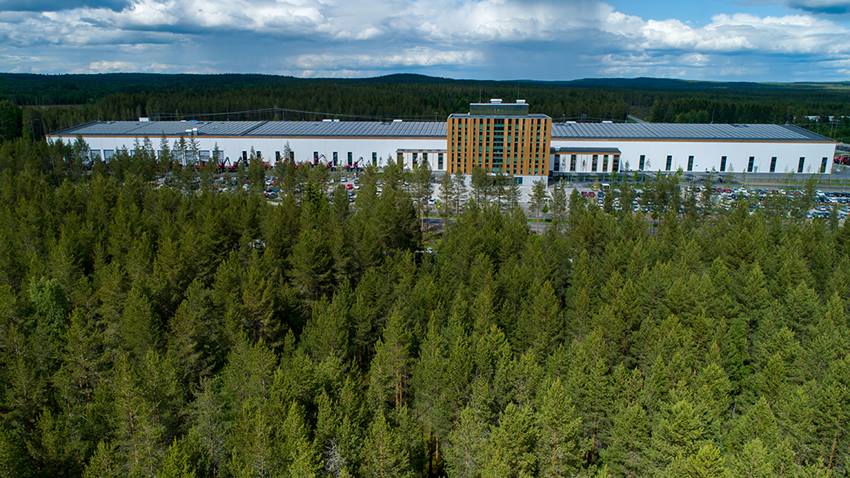 In our efforts to become
carbon neutral
, we have created the workplace of the future with our new production facility, a facility that considers human as well as environmental needs. The entire building has been constructed in line with the Swedish environmental standard Miljöbyggnad Guld as regards energy, with the requirement to remain below 60 kWh/m². We estimate that our energy consumption will be about 40 kWh/m².
With one of northern Europe's largest
solar farms
on the facility roof, we can produce 2.62 GWh of electricity. The surplus produced is sold and any electricity we need to buy will be carbon neutral. Heating and cooling needs are met by our geothermal heat pump.
The reduction in CO₂ emissions will be achieved not only by the building design, but also by our work processes. For example, we are reducing the number of wheel loaders operated at the facility compared to the previous production unit.
As for
reducing our water consumption
, refined work processes will contribute to improvements here too, in this case in how we clean machines. Low-flow shower heads and sensor-activated taps will contribute to reduced water consumption as well.
We will replant the 60–80 trees cleared to make way for the factory. To increase
biodiversity
in the area, in collaboration with Umeå Municipality we are planning to create a park-like area near the factory with assorted flowering trees and shrubs.
The workplace of the future considers not only the natural environment, but also the
work environment
. Accordingly, we have had a strong emphasis on healthy material choices, prioritising low-emitting materials. As an example, the office building has a completely wooden frame. To purify the air and reduce CO₂, there are plenty of green potted plants, and we have carefully designed and decorated the interior to ensure a satisfactory sound environment and healthy indoor climate, such as by incorporating a light well with a water feature in the middle of the office building. To promote health and wellbeing, employees have access to a large gym, and for increased security and peace of mind the parking area is well lit.
Sustainable infrastructure
for both goods and people is ensured and promoted by using the nearby railway siding for goods, while covered bike parking, electric car spaces and car sharing spaces are located conveniently close to the entrance.
Development and use of our products
There are several ways to contribute to more sustainable forestry whenever our machines are used in the forest. We work with several such measures in parallel.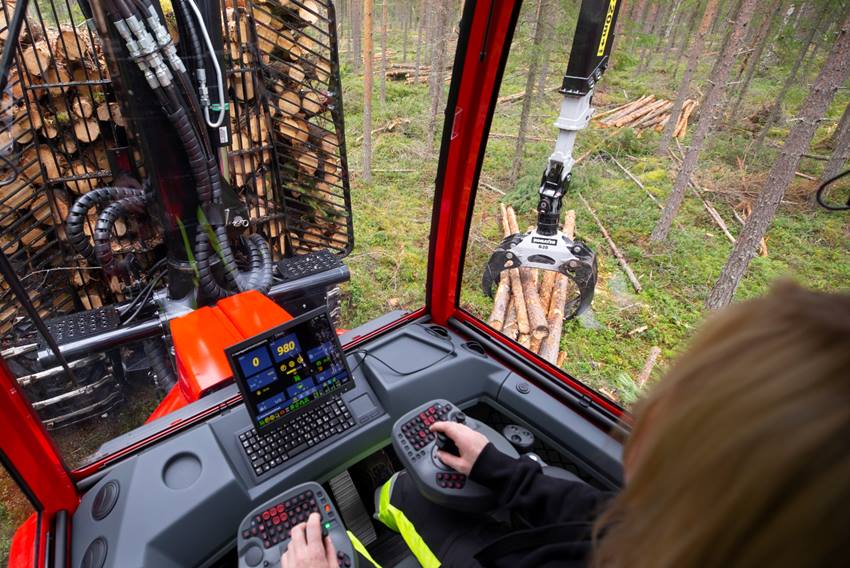 Emissions
Emissions legislation has reduced NOx and particulate matter emissions dramatically.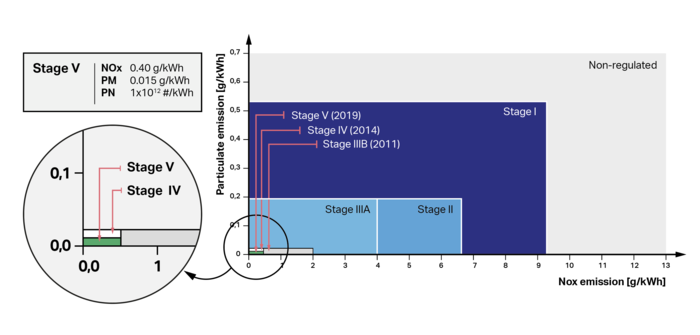 The illustration shows how today's Stage V engines perform in terms of NOx and particulate matter emissions compared to previous levels. For us, striving for the cleanest emissions on the market and being an early adopter of new technology are both givens.
Sustainable planning
Our
MaxiFleet
fleet management system helps operators to plan their work areas, routes and teamwork and thereby make sustainable choices. One concrete example is the "Forwarder instructions" function, which enables the forwarder to see where the harvester has left the felled trees so that the forwarder can choose the best route to reduce both the distance covered and any ground damage. Another practical function is "Share working area", which simplifies collaboration with external parties so that different contractors working in the same area can share information that helps them to optimise their work based on distances and ground conditions. Or to give a timber truck coming to collect the timber the exact locations of the landings for better route planning. Optimised routes help to reduce emissions.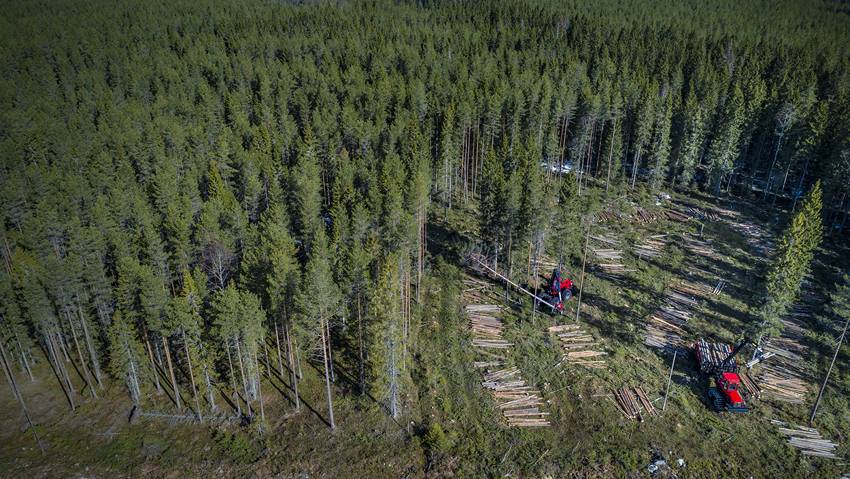 Other important functions include the map layers that help operators to plan their work based on ground and weather conditions. Fire risk maps help operators to plan their work during hot and dry spells, while map layers showing ground conditions such as wetlands help operators to reduce ground damage.
Sustainable service
Remote support enables a reduction in emissions through fewer callouts, and under the coronavirus pandemic it has also ensured that we can continue to help our customers despite restrictions and social distancing. The machine's MaxiXT control system can record and save log files detailing different machine events. These log files are transferred via MaxiFleet to our technicians, who can analyse and resolve any problems without seeing the machine in person. More than 1,000 remote connections a month are making a considerable contribution to reduced travel within our service organisation.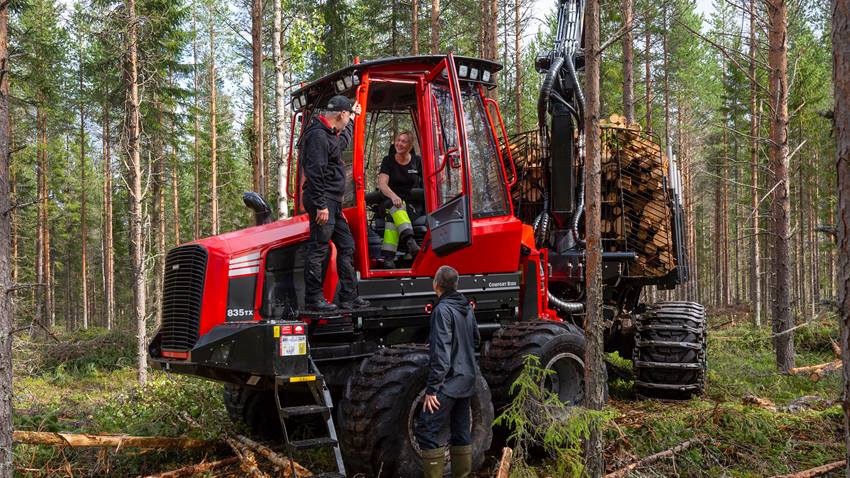 Our
ProAct
proactive service agreement comprises a close collaboration between Komatsu Forest and the machine owner wherein we develop the optimal maintenance programme for the machine. The machine is regularly inspected and analysed using operating and machine data from MaxiFleet as well as the results of oil sample analyses – all with the aim of planning service measures and replacing worn parts in good time. Any leaks are rectified while waste products are properly disposed of or safely destroyed. ProAct aims to keep the machine in good condition at all times, which also provides benefits in terms of sustainability. Regularly checking components, pressure levels and the like ensures that the machine does not consume more diesel than necessary.
MaxiFleet even allows operators to track their consumption and compare it with industry averages. We help our customers with training, adjustments, service and repairs as well, to ensure highly efficient work performance and minimal environmental impact.
Eco-friendly range
Our offering of consumables – filter kits, fluids, oils and more – includes an eco-friendly range known as Natura. This range includes, for example, hydraulic oil, glycol and chain oil that are biodegradable. Here are two examples:
HE GEN II Natura
is a hydraulic oil that is both biodegradable and a certified environmentally friendly product, biodegrading by at least 60% within 28 days. The oil does not accumulate in plants and animals and does not spread in ecosystems. The oil has a synthetic base with largely bio-based and renewable content and exceeds the certification requirements. The oil has minimal toxicity, is non-toxic to aquatic life and has been checked for allergenic and environmentally hazardous substances. HE GEN II Natura is specially adapted for use in sensitive nature areas as it is based on synthetic esters and is certified compliant with the requirements for environmentally friendly hydraulic fluid. Compared to mineral-based hydraulic oils, HE GEN II Natura has less impact on the environment in the event of an accidental leak or spill.
Komatsu SCO Natura
environmentally friendly saw chain oil has vegetable and renewable content. The oil is biodegradable, non-bioaccumulative and does not spread in ecosystems. The product is also non-harmful to humans, animals and plants. This saw chain oil offers superior equipment lubrication and adheres well to the saw bar and saw chain, reducing wear and extending the equipment's service life. Moreover, oil consumption can be reduced by up to 50%. Komatsu saw chain oil is suitable for use in sensitive nature areas that risk harm from conventional mineral-based oils.
Some of our sustainable machine options
SpeedShift
, our automatic forwarder gearbox, enables the operator to use the machine's entire speed range without stopping to change gears, resulting in both lower fuel consumption and lower CO₂ emissions.
3PS
affords our harvesters better hydraulic power coordination between crane, head and transmission, leading to reduced fuel consumption and lower CO₂ emissions.
Our
Eco-GLS
option is an environmentally friendly and adaptive lubrication system for harvester heads. The chain and saw bar are lubricated with environmentally friendly grease instead of oil. The grease offers better adhesion, which minimises both consumption and waste, thereby benefitting both the environment and your finances. It has the advantage of producing less oil mist too, minimising problems such as dirty windows and clogged radiators.
The
Find End
option is handy when processing pre-felled forest. When the function is activated, the head returns to the butt end and resets the length measuring system without cutting the stem. By reducing the need to cut the stem, the function contributes not only to reduced energy losses and fuel consumption, but also to reduced wood consumption as forest residues are reduced.