Komatsu 875
In a class of its own
Komatsu 875
The Komatsu 875 is something of a yardstick when it comes to the demands for a profitable forwarder. When you look a little more closely, you quickly see that it is in a class of its own regarding everything from productivity and cost efficiency to the operator environment.

Power
190 kW DIN at 1,850 RPM.
Torque
1,130 Nm at 1,500 rpm
Specifications
875-2020
Overview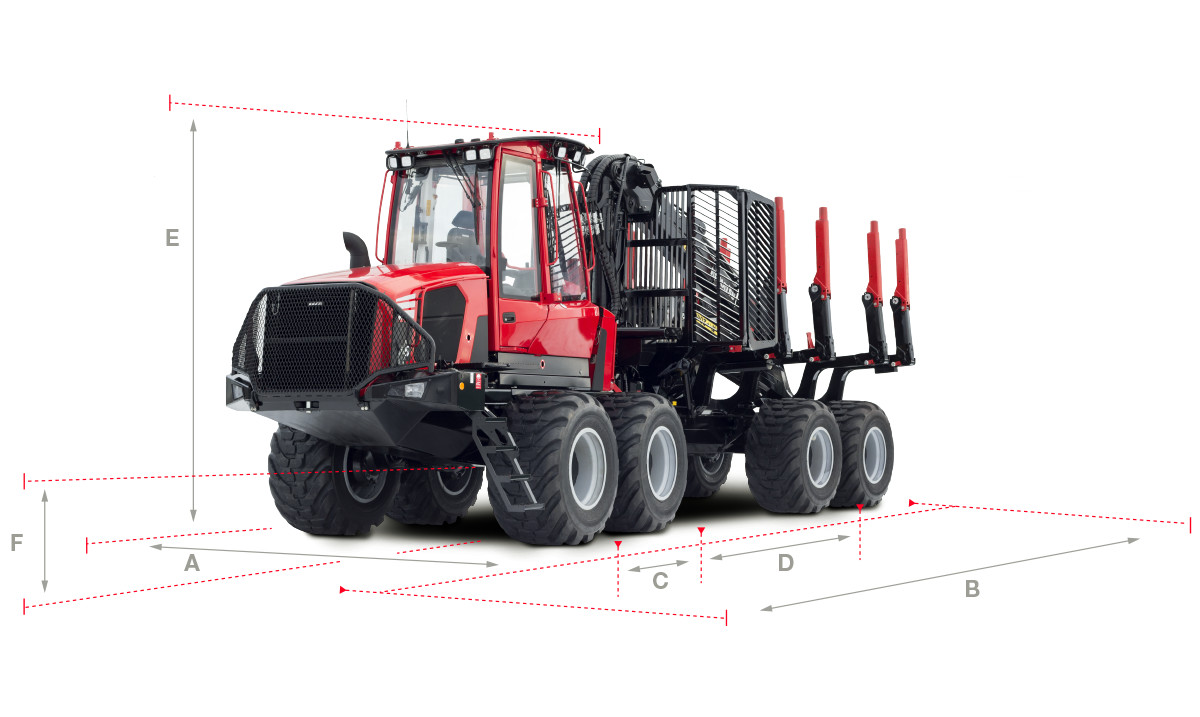 Dimensions
A. Width
With 710/45x26,5 tyres: 2 980 mm (9'9").
B. Length, total
10 360 mm (34'0") (with shortest rear frame)
C. Length, front axle to middle joint
1 900 mm (6'3")
D. Length, middle joint to rear axle
3 480 mm (11'5") (with shortest rear frame)
E. Transport height
130F: 3 880 mm (12'9"), 145F: 3 930 mm (12'11") (hoses included and with tire compression)
F. Ground clearance, at steering coupling
8WD: 710 mm
Note
Stated dimensions are nominal and may vary slightly depending on production tolerances and choice of equipment.
Weight
Approximate weight
6WD: 17 800 kg, 8WD: 20 100 kg
Engine
General information
AGCO Power, 6-cylinder diesel engine with turbo and intercooler. EU Stage V, Tier 4F, Stage II and MAR-1.
Stroke volume
7,4 l (1.95 gal)
Power
190 kW DIN (248 HP) at 1,850 RPM.
Torque
1,130 Nm at 1,500 rpm
Bunk area
Gross load
16 000 kg (35,274 lb)
Bunk area
4,5 - 6,4 m² (48.4 - 68.9 sq.ft), depending on options and market
Loader and grapple
Loader
Komatsu 130F, Komatsu 145F
Reach
130F: 8 m (26'3") / 10 m (32'10"). 145F: 8,5 m (27'11") / 10 m (32'10")
Gross lifting torque
130F: 127 kNm (93,670 lb-ft) , 145F: 145 kNm (106,947 lb-ft)
Gross slewing torque
130F: 28.7 kNm (21,168 lb-ft), 145F: 38,0 kNm (28,027 lb-ft)
Hydraulic system
Flow
360 l/min (95.1 gal/min) at 2 000 rpm
Electrical system
Battery capacity
2 x 180 Ah
Notes
General information
The specifications describe possible equipment, not which equipment is standard or optional. Standard and optional equipment varies between countries. Your sales representative has an up-to-date list of what is included. Weights are based on the equipment specified in the basic specification. Specifications and designs are subject to alteration without prior notice.