Komatsu 931
Strong and smart
Komatsu 931
The new Komatsu 931 is built for truly demanding logging. In severeal decisive areas it provides the benchmark for future needs of maximum production capacity, eco-friendliness and operator comfort – the most important of which are presented here.
Weight ( appr.)
From 19 880 Kg
Power
190 kW DIN at 1,850 rpm
Specifications
931-2020
Overview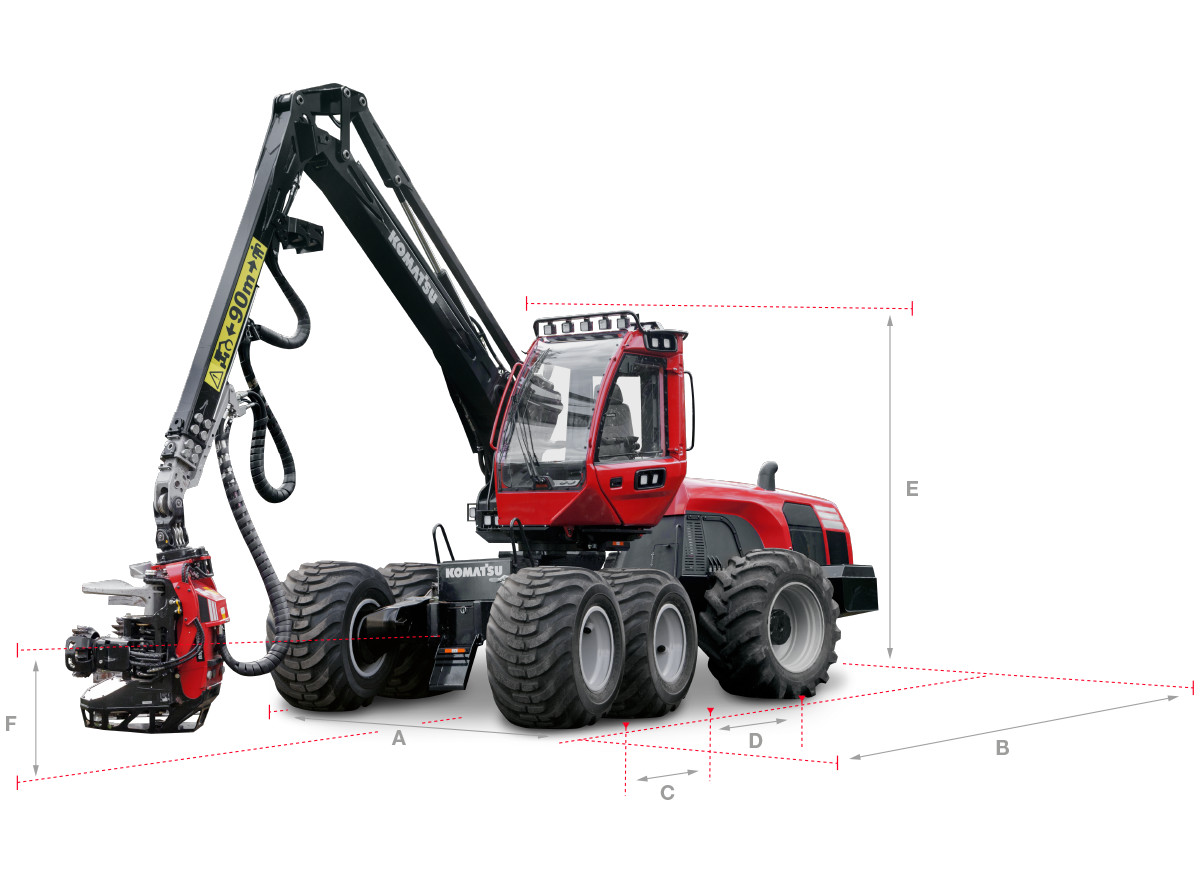 Dimensions
A. Width
With 600/55x26.5 tyres: 2 726 mm.
B. Length, total
7 525 mm
C. Length, front axle to middle joint
1 930 mm
D. Length, middle joint to rear axle
1 800 mm
E. Transport height
3 960 mm (with tire compression)
F. Ground clearance
685 mm
Note
Stated dimensions are nominal and may vary slightly depending on production tolerances and choice of equipment.
Weight
Approximate weight
From 19 880 kg
Engine
Type
AGCO POWER, 6-cylinder, diesel engine with turbo and intercooler. Stage II.
Power
190 kW DIN at 1 850 rpm
Torque
1130 Nm at 1,500 rpm
Boom
Model and reach
230H: 8.7 m, 10 m, 11 m
Gross lifting torque
230 kNm
Gross slewing torque
47.5 kNm
Heads
Available heads
S92, C93, C124, S132, C144, V132E, 370E
Hydraulic system
Flow
528 l/min at 1,600 rpm
System pressure
280 bar (4,061 psi)
Electrical system
Battery capacity
2 x 180 Ah
Notes
General information
The specifications describe possible equipment, not which equipment is standard or optional. Standard and optional equipment varies between countries. Your sales representative has an up-to-date list of what is included. Weights are based on the equipment specified in the basic specification. Specifications and designs are subject to alteration without prior notice.