Komatsu 931XC
Comfort, stability and exceptional manoeuvrability
Komatsu 931XC
The Komatsu 931XC is a powerhouse offering considerable stability and low ground pressure. With eight wheels, operator comfort is high, ground damage is reduced and manoeurability is excellent in steep terrain
Weight ( appr.)
From 21 900 kg
Power
190 kW DIN at 1,850 rpm
Specifications
931XC-2020
Overview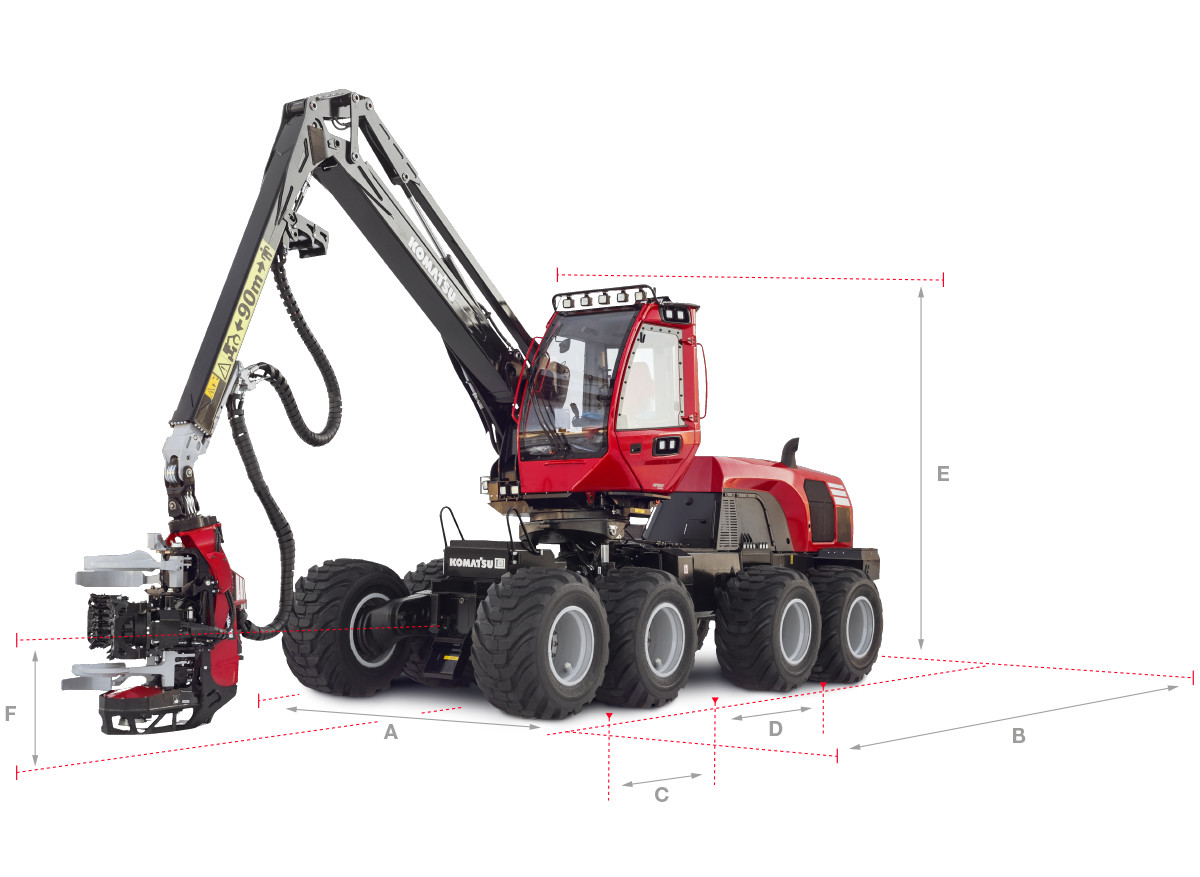 Dimensions
A. Width
With 600/55x26.5 tyres: 2 776 mm
B. Length, total
8 015 mm
C. Length, front axle to middle joint
1 930 mm
D. Length, middle joint to rear axle
2 150 mm
E. Transport height
3 945 mm
F. Ground clearance
705 mm
Weight
Approximate weight
from 21 900 kg
Engine
Type
AGCO POWER,6-cylinder diesel engine with turbo and intercooler. Stage II.
Power
190 kW DIN at 1 850 r/min
Torque
1130 Nm vid 1 500 r/min
Boom
Model and reach
230H: 8.7 m, 10 m, 11 m
Gross lifting torque
230 kNm
Gross slewing torque
54 kNm
Heads
Available heads
8,7 m: S92, C93, C124, S132, C144, V132E, 370E. 10 m: S92, C93, C124, S132, C144, V132E. 11 m: S92, C93, C124
Hydraulic system
Flow
528 l/min at 1,600 rpm
System pressure
280 bar (4,061 psi)
Electrical system
Battery capacity
2 x 180 Ah
Notes
General information
The specifications describe possible equipment, not which equipment is standard or optional. Standard and optional equipment varies between countries. Your sales representative has an up-to-date list of what is included. Weights are based on the equipment specified in the basic specification. Specifications and designs are subject to alteration without prior notice.