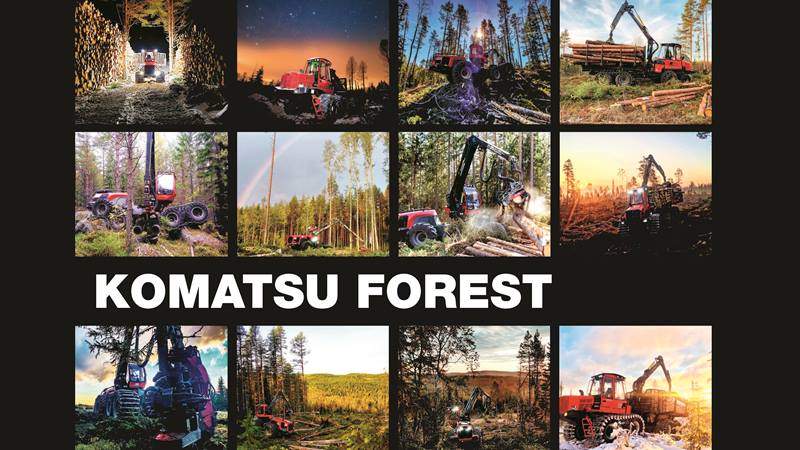 Photo competition
Wall calendar for 2021
Take the opportunity to show your photo talents and include your image in our 2021 calendar.
Send us your best Komatsu image and compete to get your image published in Komatsu Forest's common calendar for 2021. The 12 winners will in addition to the honor and the calendar, also receive a great prize.


First prize: 5000 SEK in our webshop
2-5: 1000 SEK in our webshop
6-12: 500 SEK in our webshop


You enter the competition by taking a photo and send it to:
info@komatsuforest.com
. The image should be in landscape format and clear A4 size prints. One tip for a greater chance of winning is to submit high-resolution photos that are showing our different seasons. Don't forget to write who took the photo, first and last name.
The final day of the competition is August 17, 2020.


Good luck!
Rules for participation:
The organizer of the competition is Komatsu Forest AB, Marketing Department, Umeå, Sweden organization number: 556079-5949


Komatsu Forest protects your privacy and your personal data is processes in accordance with data protection rules. Your contact details as participants will not be disclosed to the third part or to choose for any purpose other than to complete the competition and to send any price if you are one of the winners. For more information on how Komatsu Forest processes personal data, see our privacy policy at www.komatsuforest.com/privacy-policy.


Komatsu Forest reserves the right to remove inappropriate photos in the event of abuse. The participant confirms that he or she owns full rights to the competing photo or that the transfer of the image is allowed. The images may be used globally by Komatsu Forest AB and its associated companies. The participant accepts that these companies have the right to use the images entered in the competition, for communication and marketing purposes, for example in other countries local calendars and in social media. Komatsu Forest also has the right to crop images and make other changes if required. If there are people in the picture, they must have accepted the terms as well.


The jury allowed by the organizer appoints the winning photo (1 photo) among all photos submitted to the competition. If the winner cannot be reached within two weeks, Komatsu Forest has the right to appoint and other winners.


When participating in the competition, the participant agrees to follow the official competition rules and decisions made by Komatsu Forest AB. If any identifiable person appears in the photo, Komatsu Forest will send a separate consent form for approval. The company reserves the right to change the rules.