Komatsu 875
In a class of its own
Komatsu 875
The Komatsu 875 is something of a yardstick when it comes to the demands for a profitable forwarder. When you look a little more closely, you quickly see that it is in a class of its own regarding everything from productivity and cost efficiency to the operator environment.

Power
185 kW DIN at 1,900 RPM.
Torque
1,100 Nm at 1,500 rpm
Specifications
875
Overview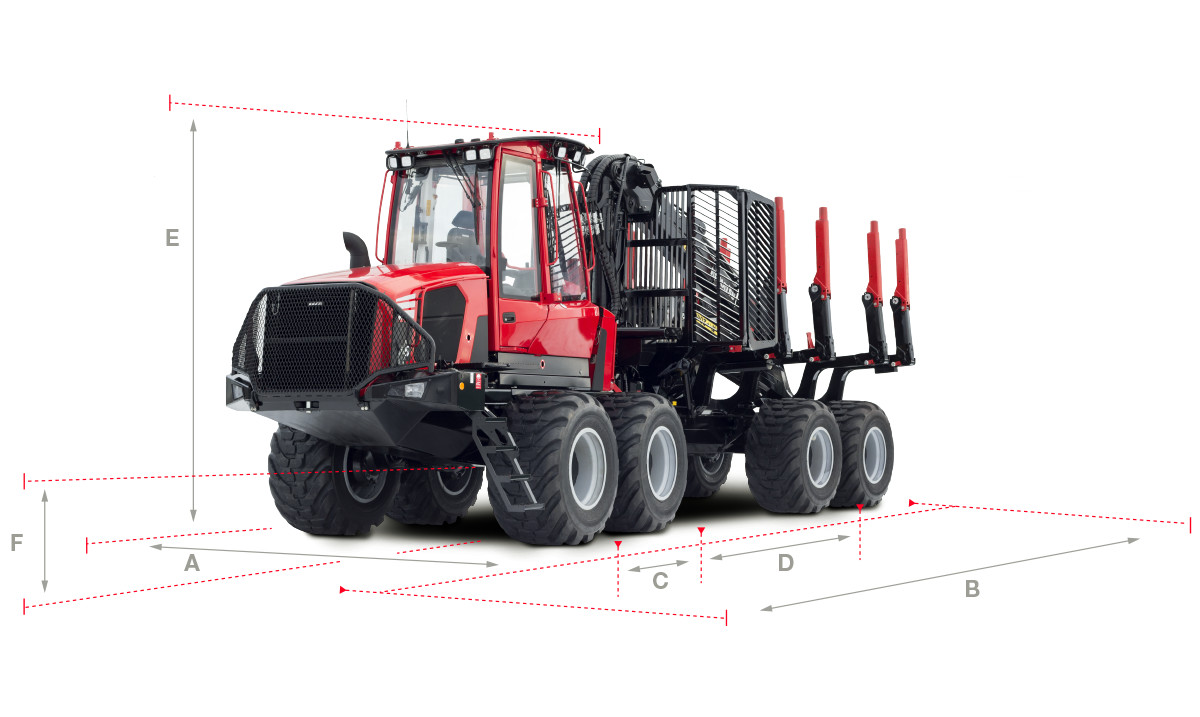 Dimensions
A. Width
With 710/45x26.5 tyres: 2 980 mm. With 800/40x26.5 tyres: 3 170 mm
B. Length, total
10 360 mm (with shortest rear frame)
C. Length, front axle to middle joint
1 900 mm
D. Length, middle joint to rear axle
3 475 mm (with shortest rear frame)
E. Transport height
3 940 mm (hoses included and with tyre compression)
F. Ground clearance, at steering coupling
6WD: 562 mm. 8WD: 632 mm
Weight
Approximate weight
From 19 900 kg
Engine
General information
74 CWI2. 6-cylinder diesel engine with turbo and intercooler. Stage 2.
Power
185 kW DIN (248 HP) at 1,900 RPM.
Torque
1,100 Nm at 1,500 rpm
Bunk area
Bunk area
4.7 - 6.4 m2, depending on options and market
Loader and grapple
Reach
130F: 8 m/10 m, 145F: 8.5/10.0 m
Gross lifting torque
130F: 127 kNm , 145F: 145kNm
Gross slewing torque
130F: 28.7 kNm, 145F: 38,0 kNm
Rotator
G121/G141 ProTec and slewing dampened link.
Hydraulic system
Flow
360 l/min at 2,000 RPM
Max working pressure
260 bar (3,771 psi)
Electrical system
Battery capacity
2 x 180 Ah
Transmission
Driving Speed
0-8/20 km/h (terrain/road) (max speed with steering wheel)
Notes
General information
The specifications describe possible equipment, not which equipment is standard or optional. Standard and optional equipment varies between countries. Your sales representative has an up-to-date list of what is included. Weights are based on the equipment specified in the basic specification. Specifications and designs are subject to alteration without prior notice.