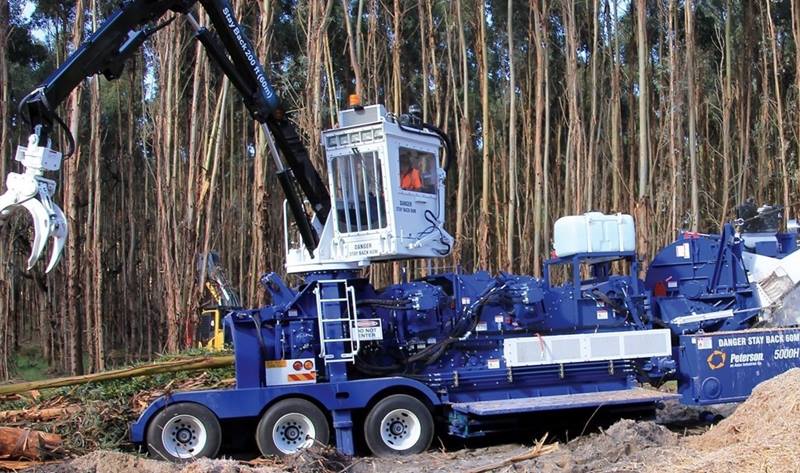 Peterson
Turns low-grade organic materials into high value products
Peterson chippers and grinders are the most efficient and productive equipment for wood salvage, land clearing and plantation rotation.

Whether you are producing pulpwood, biofuel or reducing raw materials Komatsu Forest can supply a Peterson best suited to your situation.
| | | |
| --- | --- | --- |
| Horizontal Grinders | Drum Chippers | Disc Chippers |
| | | |
| Chain Flail Debarker | Blower Trailers | Used Equipment |
| | | |
Since 1981, Peterson has specialized in the developing of delivery and processing equipment that turns low-grade organic materials into high value products. Komatsu Forest Pty Ltd has been a dealer for Peterson products since 2010 selling their Horizontal Grinders, Disc & Drum Chippers and Flails.
For Chipper and Flail sales contact Brenton Yon

Mobile: +61 418 816 477
Email: brenton.yon@komatsuforest.com
For Grinders and Blower Trailer sales contact Andrew Watts

Mobile: +61 418 296 968
Email:

andrew.watts@komatsuforest.com
For all Peterson product inquiries in New Zealand contact John Fisken

Mobile: +64 2 7771 5254
Email: john.fisken@komatsuforest.com
Facts
In 2009 Komatsu Forest recognised the need to expand its product range to meet the developing changes in the hardwood chip market especially for export. After a market search KF found the Peterson chippers and grinders to be global market leaders in technology which fitted with the KF product mix and market strategies.

The timing proved right as Peterson was also looking for a committed distributor for their chippers and grinders in the forest and green waste markets to take them to the next level in Australia. This led to several meetings with the two companies appreciating the benefits each had to offer and thus signed a dealer agreement on the 1st October 2010.

The Komatsu Forest/Peterson partnership has proven successful from the beginning and now dominate the Australian market.